ICH., CH. GORONGOSA Modrá Písnička (Fany)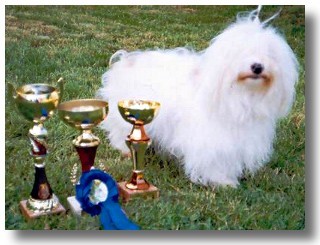 Queens of Woodland Cottage
Fripounet de Champlet
Bandit de la Fosse aux Renards
CH. Bellis the Valaury´s Cottage
Kismy-Kate of Woodland Cottage
H´Starsky of Woodland Cottage
ICH. Ullapool de Guitelione
Pandora of Woodland Cottage
Jérémie de Shigatse Shangtu
ICH. U´Hutchinson du Domaine de Manakarra
Tiara Coraline du Doamine de Manakarra
ICH. L´Kombavazaha of Woodland Cottage
Kismy – Kate of Woodland Cottage
Odyssee des Toliary Stars
Dysplasia: 0/0, PRA: neg.
Chovatel / breeder: Marta Dlabolová, Czech Republic / Česká republika
Awards: Champion Germany, Interchampion, Czech champion, Champion VDH, National winner, Jugendbester
Gorongosa has parents imported from Belgium (breed station Of Woodland Cottage).
---
With a deepest sadness, we would like to announce that we lost our "Gorongosa Modra Pisnicka – Fanynka" on October 5, 2009. She was 14 and half years old with the 47th registration number. She was the daughter of "Queens of Woodland Cottage" and "Pandora of Woodland Cottage" the founders of the Coton de Tulear family in Czech Republic.
She was nicknamed "The Queen" by referees and judges thanks to her look and personality. A lot of European countries awarded her titles from different dog competitions and trade shows where her highest accomplishment was the First Czech Interchampion title.
We wish long and happy life to all her offspring; the same one she has had in the Klenot Toliary Breeding Station.
---
PICTURES
---
FANY IS MOTHER OF THIS CHAMPION:
CH. Glenn Klenot Toliary, male

Český šampion

Majitel: L. Homolová
FANY IS GRANDMOTHER AND GREAT-GRANDMOTHER OF:
ICH., CH. Chéri Klenot Toliary, female

Interchampion, Czech Champion, club champion, Slovakia junior champion

Owner: I. Kutílková